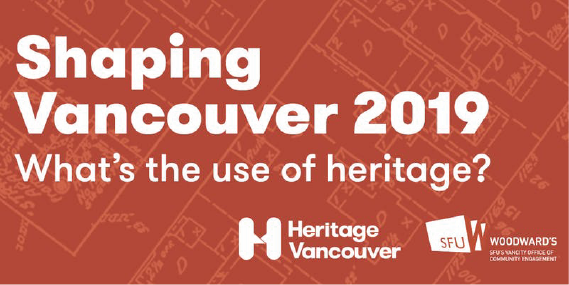 Register for the next session here!
Upcoming Shaping Vancouver Panel Discussions:
Shaping Vancouver 2019 is scheduled to return to SFU Woodward's on November 5th, and November 28th. Updates and more information will be published here as we continue organizing these panel discussions.
November 5th- Shaping Vancouver 2019: What's the Useof Heritage? Conversation #3: Is Heritage Relevant?
There is a significant disconnect between heritage as a discipline and heritage as practiced locally on the ground. As a discipline, heritage has changed considerably in recent decades. It has moved beyond traditional boundaries and intersected with issues such as equity, social values, climate change, housing, and community planning. Provincially, nationally and internationally, experts and experienced professionals consistently identify several core themes and explore their impact on practice:
• There is a growing interest in heritage as a living system of relationships between people and place;
• There is an understood need for greater attention to cultural diversity and how different cultural groups value heritage (e.g. First Nations, women, LGBTQ2);
• Classical heritage concepts around building preservation alone do not address contemporary societal needs and issues; resolution of these needs requires broader and more interdisciplinary approaches
Locally, the heritage field in general is just starting to consider these broader ideas.
Competing meanings have been attached to heritage, and there are opposing views on the evolution of the discipline expressed. Some feel heritage has broadened too far while others feel strongly that heritage needs to continually re-examine its concepts in order to respond to current needs. This comes at a time when there is increasing questioning of the usefulness of heritage due to its traditional focus on preservation. In this third installment of Shaping Vancouver, we will examine the disruption taking place in heritage and the challenges it faces in remaining relevant.
Register here!
About this series:
Vancouver's heritage can play an important role towards creating a healthy, liveable city that protects our cultural and social resources. In a city facing immense development pressure, heritage is a valuable tool in the planning process. It is an active part of shaping the city, rather than the common assumption that it is an instrument for preventing change.
Beyond its preservationist roots, heritage is actually a method of place management with the intention of guiding change. Shaping Vancouver 2019: "What's the Use of Heritage?" discusses how heritage fits in to planning Vancouver's near future, what some of its uses are, and how it contributes to the city in more ways than aesthetics and historic commemoration.
Major change will be taking place across Vancouver: last November, Vancouver City Council approved a city-wide plan to outline how future development will unfold across the city. Additionally, large scale planning programs such as the Broadway Corridor, Chinatown Cultural Heritage Assets Management Plan, and Making Room are underway. What is heritage's role in all of this? Where does heritage fit in and what are its uses?
Throughout this year's series, we will explore how heritage can be used to make Vancouver a better place overall through the lens of various planning processes happening in the City. Heritage is a continuous thread that runs through the wider city, and we will end this year's series by tying heritage to the city-wide plan.