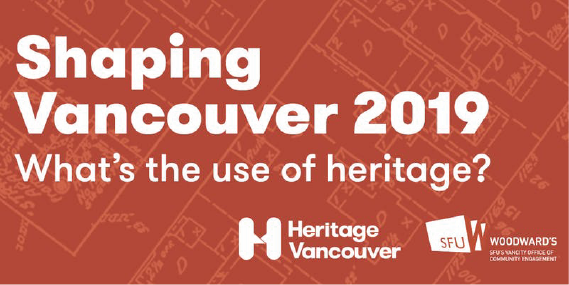 Register for the next session here
About this series:
Vancouver's heritage can play an important role towards creating a healthy, liveable city that protects our cultural and social resources. In a city facing immense development pressure, heritage is a valuable tool in the planning process. It is an active part of shaping the city, rather than the common assumption that it is an instrument for preventing change.
Beyond its preservationist roots, heritage is actually a method of place management with the intention of guiding change. Shaping Vancouver 2019: "What's the Use of Heritage?" discusses how heritage fits in to planning Vancouver's near future, what some of its uses are, and how it contributes to the city in more ways than aesthetics and historic commemoration.
Major change will be taking place across Vancouver: last November, Vancouver City Council approved a city-wide plan to outline how future development will unfold across the city. Additionally, large scale planning programs such as the Broadway Corridor, Chinatown Cultural Heritage Assets Management Plan, and Making Room are underway. What is heritage's role in all of this? Where does heritage fit in and what are its uses?
Throughout this year's series, we will explore how heritage can be used to make Vancouver a better place overall through the lens of various planning processes happening in the City. Heritage is a continuous thread that runs through the wider city, and we will end this year's series by tying heritage to the city-wide plan.
Upcoming Shaping Vancouver Panel Discussions:
Shaping Vancouver 2019 is scheduled to return to SFU Woodward's on October 9th, November 5th, and November 28th. Updates and more information will be published here as we continue organizing these panel discussions.
October 9th- Shaping Vancouver 2019: What's the Use of Heritage? Conversation #2: What do we do about neighbourhoods?
Neighbourhoods are often positively associated with community. They tend to have a combination of qualities that communities identify with which can make them distinct. These include the people, the types of interactions they have with each other, nature, types of commercial spaces, housing tenure, and public spaces in addition to the type and design of buildings. However, there are conflicting views as to whether this distinctiveness is positive or not. Some argue that "neighbourhood character" must be maintained to preserve the diversity of the city. Others note however that "neighbourhood character" frequently serves as an instrument of exclusion, making people feel unwelcome and marginalizing them.
Neighbourhoods that do not evolve risk stagnation; while neighbourhoods that change too rapidly erase the attributes that make them unique. Are there then qualities of neighbourhoods that should be cultivated or protected? As Vancouver faces a housing crisis, how do we go about discussing neighbourhood change? In our second talk in this year's series on "What's the use of Heritage?", we take a city-wide view of neighbourhoods as the city embarks on a City-wide Plan.
In this session, we are excited to welcome four panelists to share their insights about their local places:
Richard Evans -Chair of RePlan, a committee of the False Creek South Neighbourhood Association
Scot Hein -adjunct professor in the Master of Urban Design program at UBC, previously the senior urban designer with the City of Vancouver
Jada-Gabrielle Pape -facilitator and consultant with Courage Consulting
Jennifer Maiko Bradshaw– Renter, pro-housing activist and Director of Abundant Housing Vancouver
Register here!