In Support of Small Neighbourhood Businesses
Local businesses are a key part of our collective social life.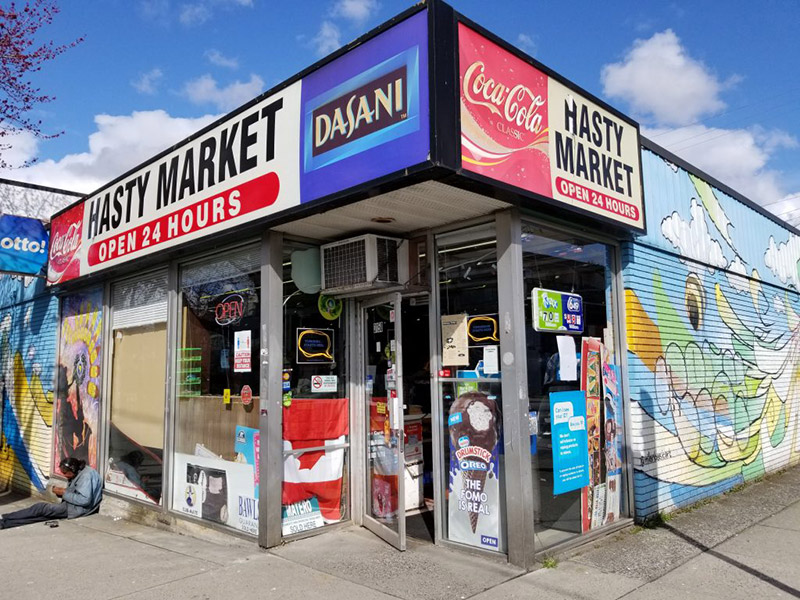 We have created an interactive map and list of neighbourhood businesses that are still open during the COVID-19 pandemic, with information on how these businesses are operating and how the public can support them. We have organized the list into three categories:
Food and drink
Groceries
Small retail stores and services
Information, including location, hours, physical distancing measures, and services provided, can be found by clicking on a point on the map or browsing the list below. Links to the websites of these businesses can be found on both the list and the map. We have based our list off of the City of Vancouver's local area boundaries and are updating it with businesses that are open in each area. 
Please note that this is not an exhaustive list and that operating hours, services, and closures can change at any time. We are doing our best to keep this list current and updated.
During these uncertain times, it is of paramount importance to support these places if you can.
Note – we (HVS) do not endorse the businesses listed, but we believe in the value that a thriving small business community contributes to a vibrant city.
Note – we have categorized our areas according to the City of Vancouver's local area boundaries. Under these boundaries, areas like Gastown and Yaletown are listed under Downtown, Chinatown is listed under Strathcona, Granville Island is listed under Fairview, and the Drive is listed under Grandview-Woodland. We recognize that the City's administrative boundaries do not necessarily correspond with how people identify with the cultures and identities of Vancouver's diverse neighbourhoods, but it provided a straight-forward and manageable way for us to organize geographic space with the limited resources we have.
Want updates from Heritage Vancouver?
We acknowledge the financial assistance of the Province of British Columbia.