Upcoming Shaping Vancouver Panel Discussions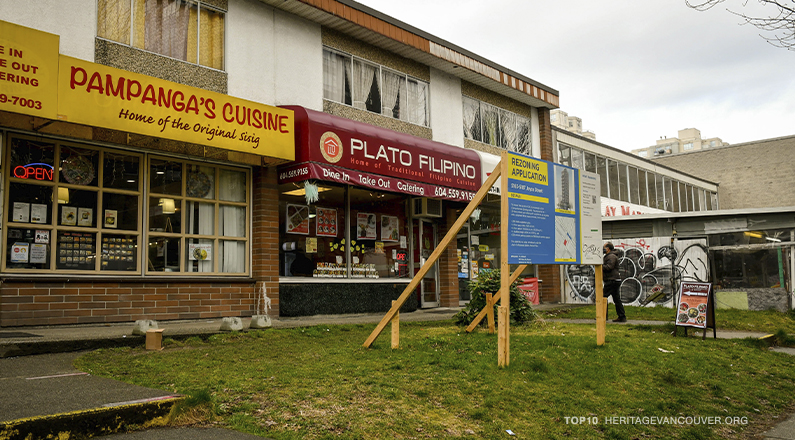 June 21, 2022, 7-9 PM
A rezoning proposal for 5163-5187 Joyce Street near the Joyce-Collingwood Skytrain station drew a lot of interest in 2021. Covered in the Tyee as Vancouver's Filipino Heart, attention has been on the cluster of six small businesses facing displacement.
We held an online event in December 2021 about the food hub where two guests shared the importance of the Joyce food hub as a significant place of community service, cultural experience and identity. Claire from Slice Mango Collective and Bennet, the owner of one of the businesses affected, shared some of the stories they felt were important to consider when planning decisions are made about this area.
To follow up, Shaping Vancouver: The Joyce Food Hub, will consider those stories about sense of self and community identity in the context of how neighbourhood and city planning are carried out.
This online panel discussion will cover:
• How planning practice and development view such stories and understandings of place
• The idea of centring community knowledge, stories and understandings of the food hub in the planning of the area
• The demand for cultural equity brought about by the proposed development and displacement
• The problems in our housing system that contributes to these situations
• A range of measures that could address potential displacement and their pros and cons
Panelists
Hannah Balba -Settlement Worker at Collingwood Neighbourhood House
William Canero – Director, Kathara Pilipino Indigenous Arts Collective Society and South East Asian Heritage Society
Meg Holden – Professor of Urban Studies SFU
Neal LaMontange- Policy Planner and Urban Planning Instructor
JP Catungal – Assistant Professor, Critical Race and Ethnic Studies
Hannah Balba currently works as a Settlement Worker at Collingwood Neighbourhood House. She graduated from the University of British Columbia in 2021 with a degree in History and Critical Studies in Race, Gender, and Sexuality, with a specific research focus on Filipino labour migration and its relation to Canadian foreign domestic worker movements. As a Settlement Worker, she assists newcomer individuals and families, refugee claimants, and migrant workers with their unique settlement needs relating to immigration, finance, education, housing, health, social services, and community networking. As a Tagalog speaker, she mostly connects with the Filipino community in the Renfrew-Collingwood neighborhood, notably working with the elderly, Filipina care workers, and newly-arrived youth.
William Canero (He/They) currently serves as a Board of Director for the Kathara Pilipino Indigenous Arts Collective Society and the South East Asian Heritage Society. During his time at UBC, William served as Councillor for the Graduate Student Society, the Planning Students Association, and the Planning Equity Coalition. William has had the privilege of facilitating consultations with the Pilipinx community, lead non-profits through strategic and long-term planning, and has recently worked with Burnaby's Planning Department on ethnic business and farmer protections, arts and culture within Official Community Plans, and Indigenous parks co-management research. He has since moved on to start his own consulting firm, Malaya Planning and Engagement, which works with non-profits around planning issues within their local communities. As the current Systems Change Coordinator for Collingwood Neighbourhood House, William supports the ongoing work of the community to identify the root causes of systemic issues and build capacity for lasting and positive change. 
Neal LaMontagne is a city planner with over 20 years of experience in developing comprehensive policy plans at the neighbourhood, city and regional scale in California and BC, including as a senior planner with Vancouver, North Vancouver City, and UBC. He is currently faculty lecturer in the University of Alberta School of Urban and Regional Planning and has taught planning and design at UBC, Langara College, and in the SFU City Program.
Meg Holden is Professor of Urban Studies and Resources and Environmental Management at SFU.  She is currently a candidate member of the Planning Institute of BC. Meg's research program takes a pragmatic and  engaged approach to the examination of urban policy, planning and sustainable development intentions and transitions in cities and communities, particularly in BC, Europe and Australia. Her current projects include Community Housing Canada, examining how to institute the right to housing for vulnerable Canadians, the Hey Neighbour Collective, focusing on neighbourliness and social connections in higher density communities in Vancouver, and the Community Well-Being Institute, which aims to bring the meaning and implications of well-being at the community scale into greater focus. In place-relevant terms, Meg is a single mom with twin daughters who attend Windermere Secondary, and a fourth generation Canadian who is settled near the once-headwaters of Still Creek.
Dr. John Paul (JP) Catungal is an interdisciplinary scholar whose work is situated between critical human geography and intersectional feminist theorizing. JP is currently Assistant Professor of Critical Racial and Ethnic Studies with UBC's Social Justice Institute. He is founding Academic Co-Lead of the Centre for Asian Canadian Research and Engagement and served as Director pro tem of the Asian Canadian and Asian Migration Studies program. Informed by his perspectives as a queer, first generation Filipinx Canadian immigrant from a working class family, his research interests concern Filipinx and Asian Canadian studies; feminist and queer of colour critique; migrant, anti-racist and queer community organizing; and the politics of education, mentorship, teaching and learning.  
As an urban geographer, JP has written on the role of community groups and business associations in shaping the social life of parks and neighbourhoods, and on the impacts of structural and interpersonal violence on marginalized communities' experiences of urban public spaces. More recently, his research has turned to Filipino Canadian experiences of educational spaces in Vancouver, focusing particularly on how they make sense of the their racialization in the global multicultural city. JP was co-editor of the landmark 2012 volume Filipinos in Canada: Disturbing Invisibility (University of Toronto Press), as well as of recent journal special issues on the intersections of sexuality, race and nation in the Canadian context in ACME: International Journal of Critical Geographies and TOPIA: Canadian Journal of Cultural Studies. 
In partnership with SFU's Vancity Office of Community Engagement, UBC Asian Canadian and Asian Migration Studies, UBC Public Humanities Hub, Sliced Mango Collective and Alyssa Sy de Jesus.