In the context of "urban renewal", community initiatives, beautification efforts, and commercial and tourism interests, Chinatown and Gastown became provincially and municipally designated Historic Districts in 1971. The designation was ultimately a tool to protect historic buildings from demolition, and as such, places of "character" and "tradition" were retained in what was believed to be an otherwise uniform downtown.
Now, half-a-century later, times have changed. While the seeds for community-based heritage thinking were sown in the 1960s and 1970s, more than ever is heritage today considered a community garden, in which citizens have a say in what happens to "their" heritage and in which multiple layers of heritage values are recognized. What is more, communities change, and those communities who live in, work in, enjoy, claim or maybe contest Gastown and Chinatown have changed as well.
Gastown
It would be an understatement to argue that Gassy Jack's (Gastown's namesake) reputation has been crumbling in the last couple of years within a settler context, not to mention from Indigenous perspectives. Erected through business and community initiatives in the 1970s and recently taken down by community initiative, the toppling of Gastown's bronze John Deighton statue earlier this year is a prime example of how sentiments can change or become more prevalent.
The deconstruction of the Winters Hotel after a devastating fire last summer has proven to be another challenging issue for the district, City Council and Staff: what to do next? (See our article about the Winters Hotel in this year's Top10.) Further, change in general is not strange to Gastown, considering rooftop additions; the introduction of various forms of housing; plans to revive Blood Alley; and the Complete Streets project, including Gastown BIA's Gastown 2030.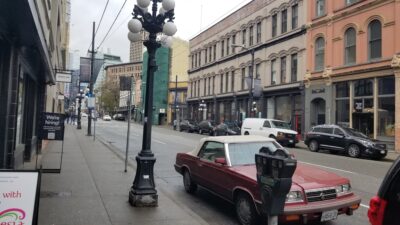 Chinatown
There are two areas in Chinatown under the Historic District. Pender Street within Chinatown's planning boundaries (known as HA-1) was regarded by planning rules as having more heritage value than the southern part of Chinatown (HA-1A) because the heritage designated buildings are concentrated on that street. But HA-1A has been more important in sustaining daily life and rituals such as shopping for culturally important foods. This different perspective to inform land use policies and regulations is expressed in Chinatown's Cultural Heritage Assets Management Plan (CHAMP, 2018-2022).
CHAMP was contributed to by a community-led advisory group, the Chinatown Legacy Stewardship Group. It is a framework that highlights the values and principles that form a vision of how to sustain Chinatown's values, ways of life, and legacy of confronting racism and discrimination. CHAMP is based upon UNESCO's Historic Urban Landscape framework, which is also a foundation of the City of Vancouver's 2020 heritage program, and is a part of the path towards a UNESCO World Heritage Site designation for Chinatown.
From the Cultural Heritage Assets Management Plan:
"… many of Chinatown's needs, including investments in cultural heritage and support to its senior residents, remain unaddressed. These gaps exist largely due to the legacy of discriminatory planning practices that have segregated racialized communities, inaccurate understanding of Chinatown's cultural heritage values, and devaluing of cultural heritage that is not of western or colonial origins."
Future
Throughout the years, design guidelines, zoning policies and heritage incentives have been adopted and revised for Vancouver's Historic Districts. Change is a constant factor within Gastown, and the CHAMP is an expression of living heritage. So how will the idea of Historic Districts evolve?
Gastown is of course quite different in nature as a Historic District compared to Chinatown. Will the Gastown Historic District as a conservation and planning tool be adapted to current heritage conservation thinking, changing environments and new planning initiatives due to area context, particularly with what we know has been ignored about Indigenous stories and history?
With CHAMP, Chinatown is positioned for a very different approach towards this Historic District. CHAMP takes the first steps in promoting the idea of heritage areas based on cultural values and what communities value as having important meanings of place. What can other historic areas and neighbourhoods that define Vancouver's diverse cultures take from CHAMP in order to plan for the complex layers of history, ways of life and community values in those neighbourhoods?
Resources
https://vancouver.ca/home-property-development/vancouvers-heritage-areas.aspx
We acknowledge the financial assistance of the Province of British Columbia