2019 Heritage Vancouver Top10 Bus Tour
Saturday, September 7, 2019  |  1:00 pm – 5:00 pm  |  $30-$40
Tickets Available Here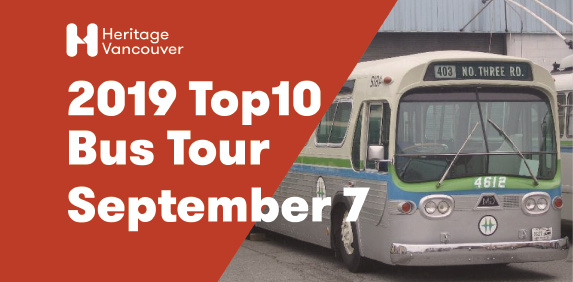 Heritage Vancouver 2019 Top10 Bus Tour


Date: Saturday, September 7, 2019
Time: 1:00 pm – 5:00 pm
Location: Meet in front of the Museum of Vancouver (1100 Chestnut St)
Tickets: $30 for Heritage Vancouver members, $40 for non-members

This tour is eligible for 4 CPL credits
About this event:
Climb aboard a Transit Museum Society (TRAMS) retro bus for an exclusive guided tour of Heritage Vancouver's Top10 endangered sites for 2019!
Since 2001, Heritage Vancouver has published this well-regarded list annually on sites facing threats, challenges, or a need for awareness and understanding. It details in depth those issues in addition to the significance of, and our position on these heritage resources and is the product of countless hours of work by dedicated volunteers and staff.
Our 2019 Top10 Watch List highlights the ongoing threats to the physical, social, and cultural fabric of historic urban landscapes, special areas, and community landmarks. For a complete description of each of the sites on the 2019 edition of our Top10 Watch list, click here.
~
Our 2019 Top10 Watch List includes:
1. The Heart of Mount Pleasant
2. Broadway Neighbourhoods
3. Maritime Museum
4. Dunbar Theatre
5. Punjabi Market
6. 525 Great Northern Way
7. Fairmont Building
8. Legacy of Expo 86
9. Japantown
10. Protecting Vancouver's Heritage
You'll see and hear first hand these Top10 sites and their associated issues while riding along on a historic bus around town!
Please consider supporting our ongoing work on the Top10 list as well as our other initiatives to build a future for heritage in Vancouver by becoming a Heritage Vancouver member. Members enjoy a discounted rate!